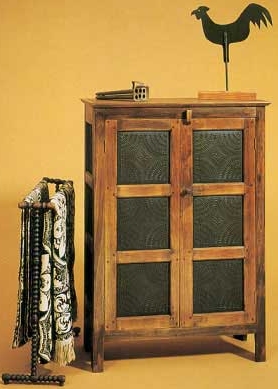 A Pie Safe featuring style RP-1007

These familiar pierced tin pie safe designs are based on some of the earliest examples of the craft found in many private and museum collections. These motifs should be used where unquestioned authenticity is required.
The circle, quarter circle, and half circle, as well as the diamond motifs were very common to pierced metal during the early years of this country's settlement. Found on both Revere-type tin lanterns and pie safe / food safe panels, this design, both alone and in combination, lends an air of authenticity to today's applications.