MAILING ADDRESS ONLY
615 Dunwoody Rd.
Williamsport, PA 17701
Phone (570) 478-4127
Fax (570) 478-2007
Or Email Us


Purchase the Pierced Tin Design Printed Catalog here.
Order our Full Line Catalog for $5

FREE Download Pierced Tin Design Catalog here.
19 MB PDF
Get Acrobat Reader




FREE Download Pierced Tin Catalog price list here.
Get Acrobat Reader




FREE Download the Supply Catalog
4 MB PDF
Get Acrobat Reader



















| | |
| --- | --- |
| | |
| Punched Tin Panels for a wide variety of uses, limited only by your imagination! As the focal point in any room, consider an ornate headboard, or a striking wall decor made with punched tin panels. (Sorry, frame and woodwork not included). | |
| | |
| | |


Custom sizing and designs of pierced tin panels is our specialty. Our resident artist of over 20 years has developed most of our designs, some exclusive to Country Accents®. As designers and makers of museum quality punched tin panels, we often match designs and finishes of "old", and almost forgotten, punched tin panels.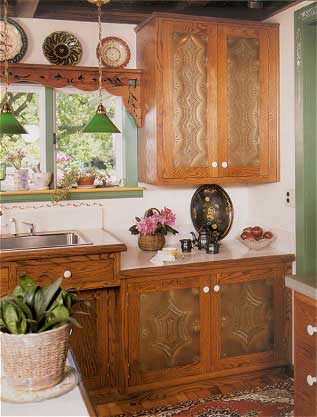 Featuring style RP-1146

Featuring style RP-1005



Below is a good example of how some favorite designs can be customized and adapted to various sizes, illustrating how all the various panels for your project can "match", regardless to size and proportion.


The Marigold, RP-1005, graces this simple but elegant buffet.
| | |
| --- | --- |
| Cabinet created by Jim Bishop Cabinets, Tin panels made-to-order design RP-1017A | RP-1017 |
Don't be concerned if the panels you need don't fit into the "standard" sizes. Here's what to do -- Telephone, e-mail, fax or mail us indicating the quantity of panels of each size you need, the particular metal finish and the RP# of your design choice.

If none of our punched tin patterns are what you are looking for, either make us a sketch of what you'd like to have or send samples, such as tiles, wallpaper, pictures, etc... And we would determine feasibility and get back to you shortly with a price quote.


Large cherry armoire featuring RP-1249 "Fleur Jardin".

The three panels shown are RP-1068.


A series of panels, combining designs of similar or the same patterns, can create your own custom wall paneling or wainscoting for an interesting and uniquely attractive decor! We've supplied tin panels for many projects of this type and the end result is striking, indeed!


| | |
| --- | --- |
| | ability to create unusual pieces and artistic designs |
| | will design to suit |
| | widest choice of metal finishes in tin, copper, brass |
| | historically accurate |
| | ability to fulfill complex or large orders |
| | customized borders and edging |