About Us
Offering the largest slection in the World for punched tin designs- Since 1979

Since 1979 We are Designers and creators of Authentic HAND MADE (one hole at a time) custom punched tin panels. specializing in custom designs and sizes. Punched tin Panels are installed in Pie Safes, kitchen Cabinets, on doors, backsplashes and so much more to suit your design style.

Our newest designs reflect a growing interest in pierced tin as room décor, headboards, wainscoting, and artwork for framing. Also available, is our punch supply line for those wanting to 'do it yourself'.
Country Accents® produces pierced metal panels and punched tin in twelve different types of metal, including copper, brass and antiqued patinas. Offering designs from the popular folk art pierced tin to historically accurate re-creations of Traditional punched and pierced tin panels, as in the old shaker style furniture, pie safes, jelly cupboards, and more.



Our Specialties include:

| | |
| --- | --- |
| | Custom Sizes and Designs |
| | Widest Choice of Sizes and Finishes |
| | Artistic Designs |
| | Historically Accurate |
| | Ability to Fulfill Large Orders |
Close to 300 different designs are pictured in our colorful 80+ page catalog, containing 100s of ideas and pictured motifs from which to choose. We include installation and kitchen "makeover" techniques which are VERY affordable. In addition, we can develop new designs for your pierced panels and customize sizes as well!

Custom sizing and design is our specialty...
and we can often match the designs and finishes on old panels. As a designer and maker of museum quality, but highly affordable handmade pierced metal panels in many different metal finishes. The usage of these panels is not only antique and reproduction furniture, but for kitchen cabinets, appliance fronts and a vast array of uses . Our selection is without equal!
Tin Punching. The overwhelming popularity of this art form serves as a constant reminder of the rich cultural history we share in common. We are most grateful to have had such a large part in the resurgence of interest in pierced / punched tin and the art of tin punching. From our onset in 1979, it has been our intention to carry on with the original concept of "Handmade in America". It is our commitment to quality and integrity of design, as well as matchless workmanship, which has kept us at the forefront of punched tin art. We were among the very first to make this tin punching available to folks around the world.
It's been our intention to elevate this humble work into a distinctive art form. We look forward to supplying you with pierced metal panels to beautify your home and surroundings... today and in the years to come.

We thank you for the opportunity to share the pride
we feel in the flourishing of our "American Dream".
It is your continued interest and support that has
helped us grow.

About Us...
In Autumn of 1979, James and Marie Palotas bought together many years of combined interest in folk art design as an artistic medium to initiate the company that is today Country Accents.
James was raised in an atmosphere where active participation in folk art disciplines was encouraged. Members of his family had gained renown in a variety of these art forms. He has drawn on this upbringing and training to inspire many of his singular designs.
Then, drawing on his mechanical training, he studied the metal piercing (or tin punching) tools from the past used by metal smiths over the generations, and recreated them. James has also developed a new line of more intricate tools to be able to create the new style of designs. Country Accents makes these handcrafted tin punches available to those wishing to craft their own panels.
Over the years, James had developed many new designs not formerly seen in this medium. They are shown in detail in our extensive catalog and we can adapt many of them to finished panels of various sizes. Numerous designs also pictured are adaptations and reproductions of the old designs found on food safes used in the days prior to refrigeration.
James has received international acclaim for his works in metal piercing and design. It has been his intention from the onset to raise this humble craft from merely a functional use to a distinct art form.
Looking to the future, Country Accents has been fortunate to find qualified and talented assistants to help carry on the original philosophy that helped our company remain the premier supplier of unique museum quality, yet affordable custom sized punched tin decor panels. With the help of their dedicated staff, they look forward to many more years of being at the forefront of this art form.

After retiring, James and Marie sold the business to Theresa Sullivan, whom started with Country Accents in 2000. Learning everything from the bottom up, Theresa mentored under James as an aprentice for 10 years, learning the craft to hand punch every design they make in our studio, as well as the antquing processes of the metals. Theresa Purchased the company back in 2009, and continues the same quality, workmanship and skill as taught by the Palotas's to maintain the "one hole at a time" motto.

A Short History on the Subject of Punched Tin
The origins of punched tin(or pierced metal, the terms are interchangeable) seems to be lost in the mists of time. Punched tin probably came to our shores with the very first settlers. It is thought that the lantern that hung in the Old North Church to announce "One if by land...two if by sea..." was indeed a local farmer's pierced tin lantern.
Little punched tin boxes with doors holding small tin cups which could be filled with hot coals were placed in pretty wooded frames and taken out to the carriage or sleigh on cold days and then on to church to be refilled for comfort during long services in unheated buildings. There were called foot warmers and are much sought after as antiques.
There are fine examples of the art to be found in Central Europe, although piercing designs differ with geography. One beautiful conical punched tin lantern was found in a wine tavern in the Vienna Woods, illuminated to cast a romantic glow in the darkened interior. This lantern, so similar to our Revere type lanterns, differed in that it's motif was pine boughs instead of the geometric, more common to the designs in the New World.
In some areas of the Alps, a goat or sheep's horn would be sharpened and a tin panel would be punched out using the alphabet and numbers from one to nine. This primitive learning tool was known appropriately as "the horn". Prettily decorated with hearts and tulips today, they make a charming bit of wall decor.
In America, pie safes and food safes came into use in the days before refrigeration. They were cupboards of various styles and sizes either floor standing or hanging cupboards meant to discourage vermin and insects and to keep dust from perishable foodstuffs. These cabinets had tinplate inserts in the doors and sometimes in the sides, punched out by the homeowner, cabinetmaker or a tinsmith in varying designs to allow for air circulation.
Today, these cabinets are much prized as collector's items. Interest in pierced tin has seen a revival in recent years after if fell out of favor after the introduction of home refrigeration and modern kitchens.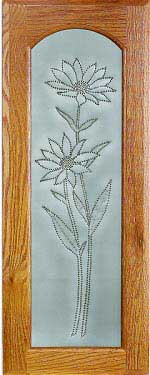 Pierced tin has come a long way since the days when perforated metal panels were used for functional purposes such as foot and bed warmers, lanterns and inserts to keep flying insects and dust from spoiling stored foodstuffs.
Replicas so true, they carry the look of antiquity...new innovative designs based on tradition...The look of pierced tin has come into the mainstream of today's decorating schemes.
Once thought of as "just country", now pierced tin panels have their place in many decorating styles. The uses for this art form are virtually unlimited. We pride our selves in the original designs conceived and produced right here in our studio.
Be secure in the knowledge that Pierced Tin Designs LLC by COUNTRY ACCENTS is synonymous with quality workmanship, integrity of design and uncompromising hand punched craftsmanship.
historichomeshows.com/pierced-tin-designs-by-country-accents/

| | |
| --- | --- |
| | ability to create unusual pieces and artistic designs |
| | will design to suit |
| | widest choice of metal finishes |
| | historically accurate |
| | ability to fulfill complex or large orders |
| | customized borders and edging |